Thanks to Yuki's walkthrough, I was able to finally beat this game and develop a strategy of my own.

First place your Crossbow here. (This is the most important unit/position for the first 10 waves.)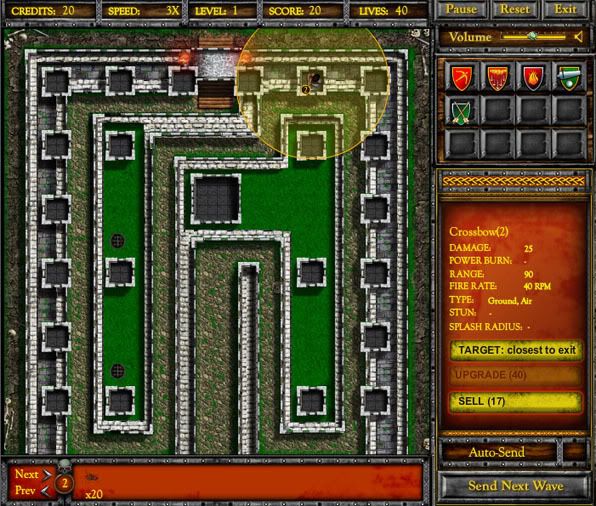 (Wave1-2) Upgrade the crossbow to (lvl 2) then play through the waves. I must have played these two waves 300 times already.

(Wave 3) Upgrade your crossbow to (lvl 3). Make sure you do not upgrade him on to (lvl 4) becuse you will need the cash for a fire mage.

(Wave 4) The crossbow can handle this wave on his own, but you may choose to place your fire mage early if you wish.

(Wave 5 - Boss) Before starting, place a fire mage here and upgrade him to (lvl 2). Also, make sure they are both set to target nearest to exit. *Note, This does not always work for some reason but most of the time it does.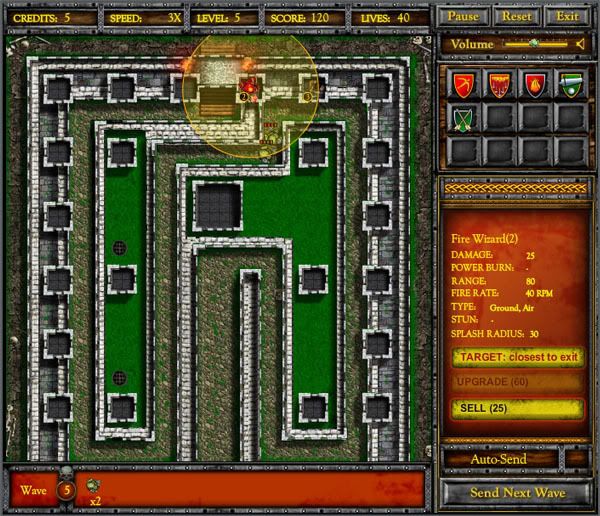 (Wave 6) Upgrade your crossbow to (lvl 4). Set your fire mage to target max mana then start wave 6 which should be a breeze if everything was done correctly.

(wave 7) During this wave, you will need to upgrade your crossbow to (lvl 5) after all the wizards on his side have passed. Make sure and do this quick or you might have trouble when the other guys come up from the lower left.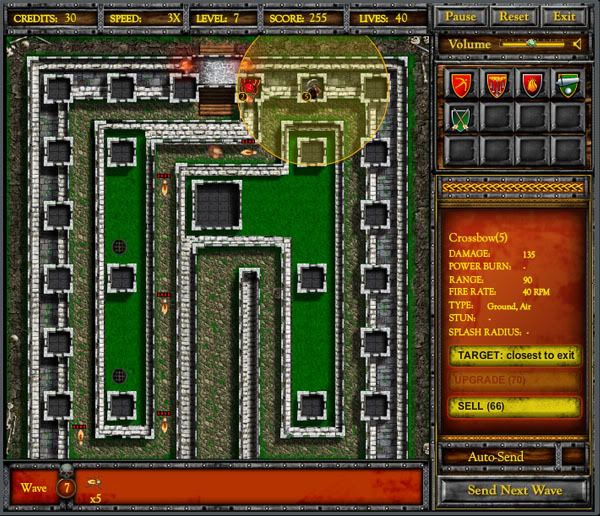 (Wave 8) Your crossbow should be (lvl 5) by now and the mage (lvl 2). Again, upgrade the Xbow to (lvl 6) after the wizards pass.

(Wave 9) You will do just the opposite. Wait for the guys on the left to pass then upgrade your mage to (lvl 3).

(Wave 10 - Boss) By now you should have a (lvl 3) Fire mage and a (lvl 6) crossbow. Next, place a longbow archer here and set him to target weakest enemy. Do not worry about upgading him yet as he is just there for the extra few hits it will take to beat these bosses. (As always, killing the bosses is not guaranteed. I really don't know why this happens but sometimes you kill them, sometimes you don't. One thing I tried is to have the fire mage target weakest until the orges pass him, then have him target nearest to exit.)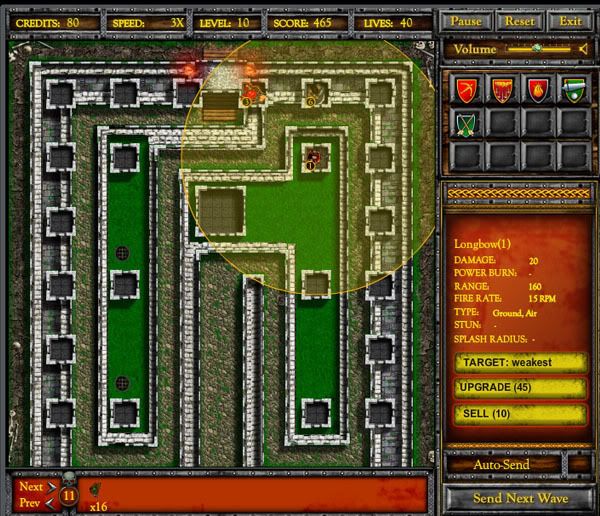 (Wave 11) Now the mobs will start coming. Do not upgrade anything. Wait til you have enough for a cannon then buy it during this wave.

(Wave 12-14 - The cannon) The cannon will help you greatly in the game but if you want to beat the last bosses, it would be better to go with the ballista. When fully upgraded, it can hit for 10k. I chose the cannon because of its splash damage. Also, if you upgrade your cannon right after it fires and as long as there is an enemy in range, it will fire a second shot when the upgrade is complete. Nice little trick that can come in handy. Upgrade your cannon to (lvl 2) as soon as you can.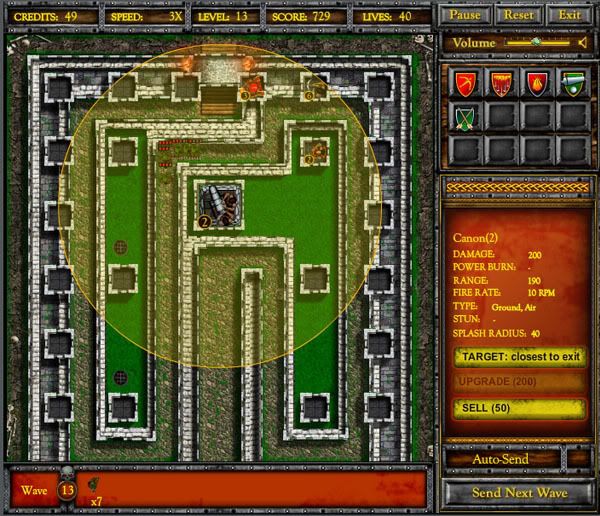 (Wave 15 - Boss) These bosses have over 4k hp. Upgrade cannon after killing one of them.

(Wave 16-19) During these waves, you can upgrade youre cannon from (lvl2) to (lvl 5 - max) and score some serious kills. Pay no attention to any other units until your cannon is fully upgraded. You will need it for the boss at wave 20.
(Wave 20 - Boss) These guys have over 5k hp. Make sure your set your cannon to target the weakest enemy. At lvl 5, it should be no problem killing these guys.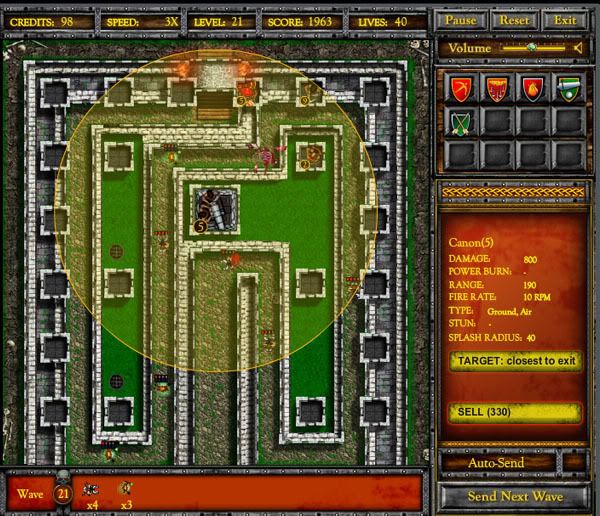 And there you have it. 1-21 with 40 lives. After wave 20, those haste wizards come back and they are almost impossible to defeat without losing lives. So be prepared for your lives to fall into the low 20s fast. But getting this far with 40 lives is an almost guaranteed win (for those who haven't beat the game yet of course) I really don't think its possible to beat this game with 40 lives but I would not be surprised if someone does pull it off.